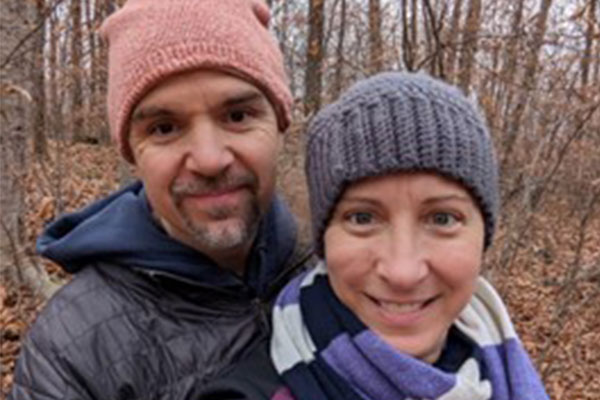 John Fisher and his wife had taken a quick trip to Vermont to purchase an Airstream camper. They lived and traveled in the camper full time for a year before settling in San Francisco where his wife works. Despite the opportunity, Fisher remembers "we had a little spot in our heart back in Vermont." Originally from western Massachusetts, he had loved living in – and exploring – rural areas before the couple became residents of a big city for the first time.
When San Francisco started to lock down early in the pandemic, the Fishers' perspective about the quality of life they were seeking quickly shifted and their daydreams about living in Vermont became more tangible. "We loved hiking and being outdoors, I wanted to be closer to my parents as they get older, and I wanted to reconnect to the rich history in the region," he recalled. "When we asked ourselves 'Where can we afford to live?' Vermont felt like the right choice."
His wife's job became fully remote, and they suddenly had the flexibility and security to "find the perfect mix" of affordability, career opportunities for Fisher, and proximity to family and recreation opportunities, which they discovered in southwestern Vermont's Bennington.
As an early childhood and elementary school educator, Fisher secured a teaching position in the local school system. To navigate the transition, he worked closely with his new supervisor who also supported his application for the Worker Relocation Grant Program.
The grant helped the couple pay their first heating bills this winter. "After draining our savings to move across the country, we are grateful for this program," he said, "We weren't eligible for the first round of incentives for remote workers back before my wife started working from home, but we kept checking back until the Worker Relocation incentive was announced. It made moving to Vermont a more affordable choice."
"We've had a good start in Vermont, a good foundation of career, place to live, and community," Fisher reflected.
Coming from a notably walkable city, Fisher is pleasantly surprised he can live in town and still walk places. "It's the best of both worlds experience for me; I walk to local restaurants and businesses, the rec center is accessible and has a full-sized pool, and the Appalachian and Long trails are right in my backyard. I look forward to spending a lot of time hiking on them this summer."
Until then, he's quickly building ties in the community and connecting to local history. "I met someone while shopping at the farmers market who connected me with the local community theater. I joined a production right away called 'Voices from the Grave' which brings to life community members who have passed away. I got to know people quickly and got a crash course in Vermont history.