Mountains and lakes, movers and shakers
Vermont's northwest corner brings together businesses, residents

,

 

and tourists

 

in a confluence of opportunity and

 

high

 

quality of life.
Bordering Lake Champlain, New York, and Canada, the northwest corner of Vermont is also its most populous and diverse area. Vermont's 
larger
 towns and cities—
Essex
, Essex Junction,
South Burlington
, 
Colchester
, 
Winooski
,
 and 
Williston
—surround the state's largest city, 
Burlington
.
 Towns further to the north include 
Milton
, 
St. Albans
, and 
Enosburg
; to the east are 
Cambridge
, 
Johnson
, and 
Morristown
. To the south are 
Shelburne
, 
Charlotte
 (pronounced "shar-LOT"), and 
Hinesburg
.
Chittenden County's entrepreneur game is strong. Long regarded as an up-and-coming tech hub, Burlington is home to scores of start-up companies that leverage the close proximity to supporting organizations like Vermont Center for Emerging Technologies, Hula, the University of Vermont, Champlain College, and Vermont Tech. Leading tech companies like Global Foundries, Dealer.com, Benchmark Space Systems, and OnLogic share the landscape with smaller innovators like Packetized Energy, Vermont Systems, and Beta Technologies.  
Manufacturers of all kinds can be found in every town in the region, from Revision and Blodgett in Essex to Husky and Advanced Machine & Tool in Milton to Liquid Measurement Systems in Georgia and Superior Technical Ceramics in St. Albans. Food manufacturers like Butternut Mountain Farm (Morrisville), Food Science Corporation (Williston), Rhino Foods (Burlington), Ben & Jerry's (St. Albans), and Franklin Foods (Enosburg) can be found throughout the region. And that's not including the many breweries, distilleries, cideries in that area, like Citizen Cider, Zero Gravity, Black Flannel, Lost Nation Brewing, 14th Star Brewing and more. 
Most of Vermont's largest school systems can be found in this region, though small class sizes and high teacher to student ratios are the norm. Higher education institutions offer extensive opportunities for postsecondary 
education, research, and professional development to students, residents, and employers. 
Anchored by the University of Vermont and its Larner College of Medicine, you'll also find Champlain College,  St. Michael's College, and Vermont Tech in the Burlington area. Community College of Vermont has multiple locations throughout the northwest while Northern Vermont University at Johnson is a cultural and educational magnet in the Lamoille Valley region.  
Many large scale cultural, sports, and business events occur in the greater Burlington area with a variety of venues and lodging available. Hardly a weekend goes by without an outdoor experience to be had at Burlington Waterfront Park. The University of Vermont and Champlain College are both popular meeting and event sites. The Lake Champlain Chamber is the go-to resource for information on area amenities. The Champlain Valley Exposition in Essex Junction hosts the annual Champlain Valley Fair—a Vermont summer tradition—as well as dozens of expos, festivals, concerts, and trade shows year round. Collins Perley Sports & Fitness Center in St. Albans is an indoor/outdoor sports and convention facility that draws from far beyond the region.  
The recreation opportunities in this region of Vermont are plentiful. Major ski destinations like Jay Peak and Smugglers Notch are nearby and there are hockey rinks throughout the region. With the majority of Lake Champlain's 107–mile length as a border, boating, fishing, and water sports are everywhere, as are many Vermont state parks. Kill Kare State Park in St. Albans—with its own 250+ acre Burton Island—and Grand Isle State Park in particular are outstanding places for camping, biking, nature watching, and family vacations close to home. Access to trails on both Camel's Hump and Mount Mansfield—Vermont's largest peaks—are close by. The Lamoille Valley Rail Trail—New England's longest—connects northern Vermont's most beautiful landscapes.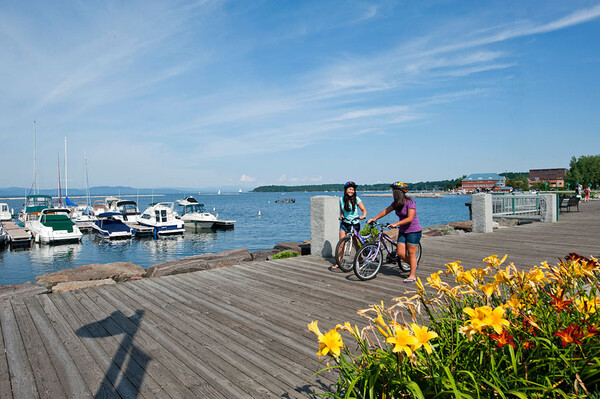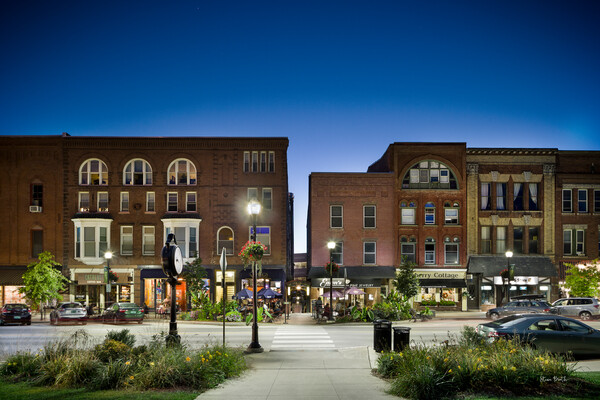 Small Towns & Historic Charm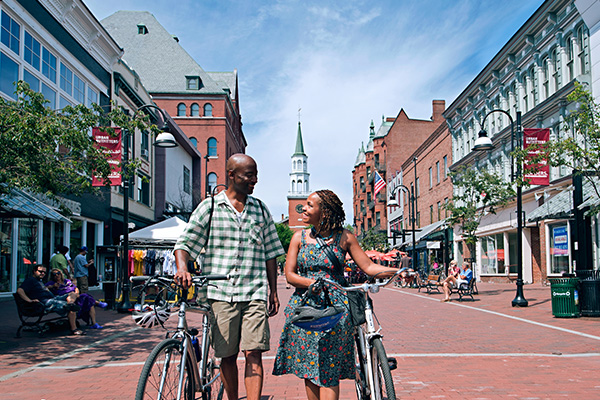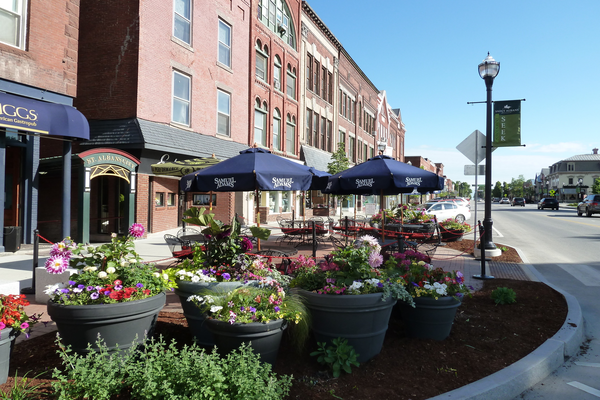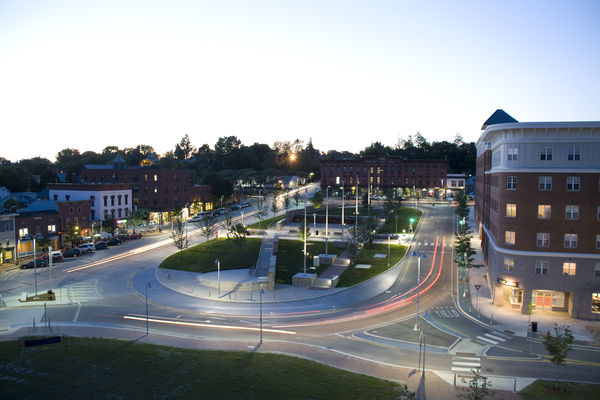 Northwestern Vermont by the Numbers
Chittenden County
Population
Median Home Price
Median Household Income
Median Rent
Franklin County
Population
Median Home Price
Median Household Income
Median Rent
Grand Isle County
Population
Median Home Price
Median Household Income
Median Rent
Lamoille County
Population
Median Home Price
Median Household Income
Median Rent
Discover Northwestern Vermont
The diverse and welcoming communities of the Lake Champlain and Lamoille valleys are calling

.
Getting Around
Spend more time moving and less time sitting at traffic lights — some towns don't even have any.
Burlington International Airport (BTV) makes this region of the state easily accessible, as well as via highway and ferry. Green Mountain Transit serves Chittenden County with multiple lines that connect to St Albans, Jeffersonville, Shelburne, Montpelier, Barre, Middlebury, and more. Green Mountain Transit also offers shuttle service throughout Lamoille, Franklin and Grand Isle Counties. Amtrak provides rail service to Essex and St. Albans to New York City, Boston, and Washington DC. Montreal is less than two hours away.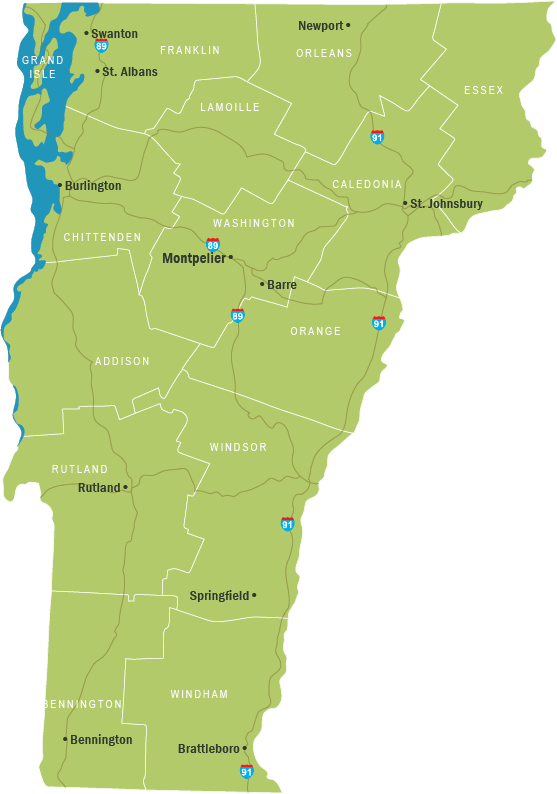 Thinking about relocating to Northwestern Vermont?
Connect with a Think Vermont Relocation Representative who can answer your questions and help you find the information you need to make your move:
Real Estate by Region
Lists compiled from data published by Vermont Business Magazine.